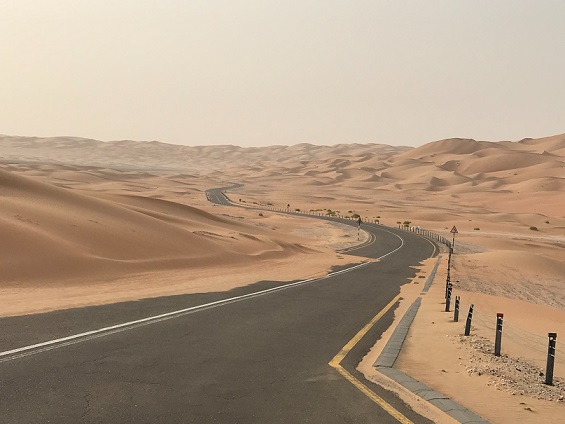 Most Exciting Places to Take Your Caravan or Motorhome
The freedom to go wherever you like, whenever you like is one of the most popular reasons people love caravans, motorhomes and campervans. Whether it's in the UK or abroad, the possibilities are only as limited as your imagination – and it's not just Europe you can head to! If you've had your fill of relaxation, there are plenty of locations for thrill seekers and boundary pushers. Here are our favourites:
The Sahara, Morocco
Believe it or not, you can take your caravan or motorhome to the Sahara Desert! A ferry from Spain to Morocco will get you on the right side of the sea, and from there you can travel through to the largest desert in the world. Campsites and "RV Parks" can be found on the cusp of the desert near towns such as Zagora. Many desert towns offer camel excursions and visits to Nomadic Berber camps to truly immerse in your surroundings.
For a truly hair raising experience, you can access the desert through the Col Tchika Pass. This road goes through the Atlas Mountains, and boasts breath-taking views. Watch out for the hairpin turns and drivers that seem to be training for Formula One.
Top Tips: Visit outside of the scorching summer, where daytime temperatures regularly top 50 degrees. And keep your heating system in good condition, as the cloudless desert nights can get pretty chilly!
Dracula's Castle, Romania
For literature, horror, and history fans alike, Bran Castle in Romania is a truly exciting place to visit. It was once the home of the gruesome Vlad the Impaler, as well as the inspiration for Dracula, and is now open for visitors to explore.
Caravans and motorhomes can travel through the stunning forest roads of central and Eastern Europe. As you drive through the roads towards Bran Castle, you'll pass through the scenic Bucegi and Piatra Craiului Mountains. Sites such as Vampire Camping offer caravans and motorhomes a convenient spot to pitch up and explore the spooky surroundings.
Top Tips: Not being tied to a tour trip with a hotel or from a town area means you will be able to find a vantage point and watch the sunset over the castle's towers (and tell ghost stories to get in the spirit!). Generally the castle closes for tours in the early evening so your view won't be spoiled by tourists.
Running With the Bulls, Spain
The San Fermin festival in Pamplona, Spain is a traditional celebration. It is not for the faint hearted, and has courted a lot of backlash from animal rights groups for the inclusion of bullfights. However, there is no doubting that this is a week of events to set your heart racing.
Outsiders are welcome to take part in the famous run and no tickets are needed – just strong nerves and legs to outrun the bulls running behind you through the Spanish streets!
There are plenty of sites just outside of the city, with plenty offering shuttle buses into the centre of the action.
Top Tips: Get into town early to watch or take part in any celebrations. Bring red and white clothes to mix with the local's dress code. Caravan and motorhome sites that offer camping during the festivities can become party zones for young people travelling through Europe, so if you want a relaxing place to stay check the site's policies before you book.
Whale Watching, Iceland
Iceland is a visually stunning location, and accessible by ferry (although places are limited). In summer, you can enjoy up to 22 hours of sunlight a day. This is the best time to see whales in Iceland. Lucky watchers can catch a glimpse of killer whales, humpback whales, porpoises and even blue whales, the largest mammal on earth.
Campsites and caravan parks are dotted all around Iceland for those that want to take in more than just the capital of Reykjavik, though the cosy and quirky city offers plenty to explore.
Top Tip: After a chilly day at sea, warm up at one of Iceland's amazing thermal spas. These natural springs create warm outdoor pools to swim in. The most famous is the Blue Lagoon, though there are plenty of public pools to enjoy.