FREE Avtex Sat Nav Motorhome Offer!
Our incredible show offers just keep on coming… with our new motorhome offer, EVERY 2018 model sold at Event City in Manchester will come with a free Avtex Sat Nav and Dash Cam! This great piece of equipment has an RRP of over £400, giving you a fantastic saving!
We are dealers of Elddis, Hymer, Sunlight and Chausson, so you can enjoy this brilliant offer on any of these major brands.
Of course, this also includes our exclusive special edition Elddis Supreme motorhome range. So, you can get even more features at amazing value!
This deal lasts throughout the Caravan and Motorhome Show. So make sure to take advantage of it from 18th January to 21st January!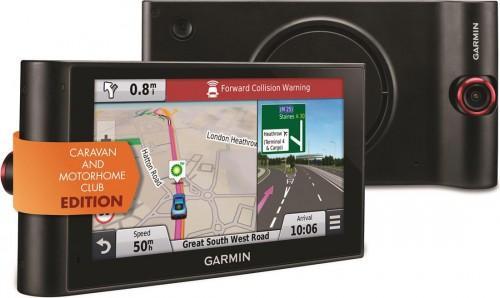 Which Sat Nav is Included in the Motorhome Offer?
The all-in-one 6" Caravan and Motorhome Club Edition  Avtex Tourer One Plus. It includes premium navigation features has a built-in dash cam. This serves as an eyewitness on the road and a record of your journey.
Customised Vehicle routing for the size and weight of your Motorhome or your Car and Caravan combination.
Road warnings for bridge heights, weight limits, sharp curves, steep gradients and more.
Driver assistance features such as lane departure warning and forward collision warning.
Detailed maps of Europe with free lifetime map and digital traffic updates, the best traffic avoidance solution available from Garmin The Avtex Tourer One Plus provides more than just help with directions.
The units built-in dash cam will capture and save footage of any collision, which can make all the difference when fault is being determined.
Magnetic mount lets you easily secure or remove from your vehicle.
The adjustable swivel lens mounted on your windscreen or dashboard gives you the optimal view of the road for recording and a 6" glass screen with pinch to zoom.
The Tourer One Plus is essential equipment for caravanners and motorhome owners. It has all The Caravan and Motorhome Club data on board allowing you to search and filter and view all the best Caravan and Motorhome Club sites throughout the UK and Europe.
The Tourer One Plus automatically records continuous HD video while driving. In the event of a collision, the Incident Detection (G-sensor) automatically saves footage on impact. You can also manually save footage with the touch of a button.
The unit can also easily be removed from its magnetic mount. This allows you to take close-up pictures of any collision damage with the Snapshot feature.
Interested?
If you have any questions about the Avtex Sat Nav and Dash Cam, our motorhome ranges or this great offer, we're here to help. Just give us a call on 01772 685949, email sales@prestoncm.co.uk or visit us at Event City! Our sales team will be more than happy to answer any queries.