It's one of the most exciting times of the year here at Preston Caravans and Motorhomes! The latest 2017 caravans and motorhomes are arriving on our forecourt and the public can see them for the first time. This year we want to set the new season off with a bang, with a 2017 Preview Weekend.
We're lining up a host of 2017 caravans from your favourite ranges, including Elddis, Buccaneer, Xplore, Swift, Sterling and Sprite. Not only that, but we have the latest 2017 motorhomes from Elddis and Chausson for you to explore – including our special edition motorhome, the Elddis Supreme.
As well as getting a look around the latest in caravan and motorhome design, we're treating all attendants to a FREE hog roast, as well as fantastic deals on awnings, accessories, pre-owned models AND our remaining 2016 Swift models (you can take a look at our selection of caravan savings HERE).
Loyalty Card Holders can enjoy 10% off in our accessories store (excluding Calor Gas). If you haven't signed up for one yet, you can do so on our Loyalty Card page  to be eligible for all our great deals.
So what's new?
Our manufacturers aren't some of the UK's favourites by chance. Each year they improve on manufacturing, features, layout and design to ensure they stay leaders of the pack when it comes to delivering quality products. The 2017 caravans and motorhomes are testament to this, retaining the elements that have made them so popular in the past, while implementing cutting edge alterations.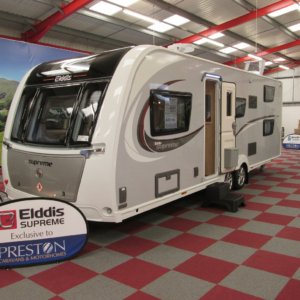 This year there are several totally new layouts in a number of ranges, including our exclusive special edition Elddis Supreme, which now boasts an impressive 8ft wide model that we know families are going to love. You can read all about the other exciting new additions HERE.
If you have any questions about our stock – new or pre-owned – our friendly staff will be happy to share their expertise with you, either over the phone on 01772 685949 or via email on sales@prestoncm.co.uk.