Veteran caravan and motorhome users have long been advocates of the freedom and fun that touring holidays bring. But it seems that science has taken notice too, with a number of studies confirming that as well as adding life to your years, touring adds years to your life.
Regulates Your Sleep Pattern
A study by the University of Colorado showed that just a week sleeping in the great outdoors rather than in a house "resets" your body clock, putting you more in sync with the sunrise and sunset. When the chemicals that control the sleep cycle are evened out in this way, overall feelings of mental and physical wellbeing  are improved. No wonder our customers are so cheery!
More Time in the Sun
The average working person gets only 2 hours of sunlight a day, which seems extremely low when you compare that with the full days of sunlight you enjoy when you're touring. Being out in the sunlight increases vitamin D in the body, which makes bones stronger, as well as increasing the "feel good" chemical serotonin in the body. Not only that, but studies have indicated sunshine can help ease rheumatoid arthritis and inflammatory bowel disease.  Of course, you should remember to pack your sunscreen to protect your skin from UV rays – you don't want to burn while you're out enjoying the sunshine!
Fresh Air
It's the age-old phrase to children everywhere: get out in the fresh air!  But it's not without reason. Countryside air is free from the pollutants of cars, factories and large buildings, and the abundance of trees mean the air contains more oxygen. So that rush of happiness you get when you pitch up isn't just in your mind – the extra oxygen gives the body more of the feel good serotonin that you get from sunlight. Plus, the more time you spend in the clean air, the more likely you are to have healthy blood pressure and digestive system, as well as a stronger immune system.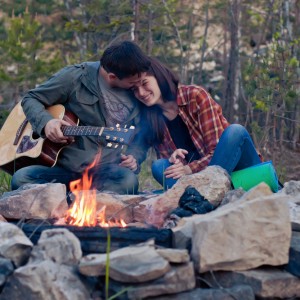 More Exercise
It's common for caravans and motorhomes to be a launch pad for outdoor pursuits, with cycling, sailing, and hiking being very popular activities. As we all know, exercise is good for the whole body, and fills you with endorphins to make you feel cheery. But even exploring your new destination can do wonders; 30 minutes walking a day can reduce the risk of a stroke by 27%, lower the level of bad cholesterol in the body (and increase the good!) and decrease the risk of dementia in older people. So next time you're picking a pub or taverna, pick one further away from the site and reap the health benefits!
Less Stress
You might have guessed already from all the positive chemicals mentioned above, but being out in the caravan or motorhome can really reduce stress levels (forgetting to pack something important notwithstanding!). When surveyed, 80% of kids who caravan felt their parents were less stressed when touring, while 76% said their parents shouted less. In addition outdoor holiday specialists Camping in the Forest, found that campers (77%) are much more satisfied with their quality of life than non-campers (59%) and past research by the Camping and Caravanning Club discovered that 93% of campers say camping can make you happier.