Motorhomes that are permanently and substantially modified to become a disabled mobility vehicle can receive full VAT exemption. The National Caravan Council has released new guidelines for motorhome dealers with regards to VAT exemption for motorhomes that are adapted as disability mobility vehicles. These rules and checks that dealers are required to carry out ensure that eligible people can access this exemption.
The rules also ensure that dealers cannot provide VAT exempt motorhomes to ineligible customers.
Not sure if you would qualify? We have put together a brief guide to help you below. If there's anything else you'd like to know, our friendly motorhomes team will be more than happy to take your queries.
Who is eligible for VAT exemption on a motorhome?
A disabled wheelchair user who normally uses a wheelchair (electrically powered or otherwise) for their mobility.
A disabled person with a degenerative condition such as multiple sclerosis, who uses a wheelchair when their condition requires it.
A lower limb amputee.
Any person who uses a stretcher for transportation due to their disability.
A charity who intends to make the motorhomes available to individuals who meet the above criteria, for their domestic or personal use.
Please note, if you are a mobility scooter user or you occasionally uses a wheelchair for e.g. visiting a shopping centre, or are temporarily disabled due to conditions such as a broken leg, you will not be eligible.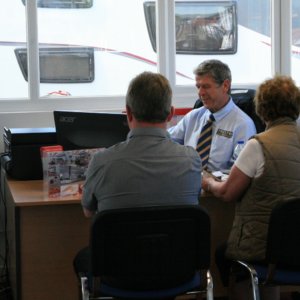 I am a carer or family member of a qualifying disabled person. Can I make the purchase on their behalf?
A qualifying disabled person does not necessarily have to be able to purchase or drive the motorhome themselves in order to benefit from the VAT exemption. The HMRC fortunately recognises that an inability to drive or purchase a motorhome should not deny you the opportunity to enjoy the freedom it can provide. As such, an immediate family member or a designated carer would be able to purchase the motorhome on your behalf.
What is classed as a permanent adaption?
Adaptations to the vehicle must be permanent and substantial and significantly change the motorhome. They should meet the needs of the disabled wheelchair user so they can enter and exit, travel in and drive it, and, in the case of a motorhome, use it for leisure accommodation purposes.
Adaptations which are eligible can include:
those which are bolted or welded to the vehicle's body or chassis of the motorhome
those which are wired into its electrics
re-configuring of the lay-out to create enough room for a wheelchair
installation of a permanently fitted ramp or lift to allow access into the motorhome.
Please note, adaptions such as bike racks, attaching trailers and the additions of parking sensors will not be VAT exempt. Temporary additions such as detachable ramps do not qualify for VAT exemption.
I am not a wheelchair user, but I do need to permanently alter my motorhome so I can use it with my disability. Would it be VAT exempt?
The motorhome itself would not have zero VAT. However, the permanent changes that you make to the motorhome will be exempt from VAT.
Is there a limit on how many adapted vehicles an eligible person can purchase?
Yes. An eligible person can only purchase one adapted vehicle within a 3 year period. If you were to purchase an additional adapted vehicle within that time you would be required to pay full VAT on that additional vehicle.
If your vehicle is stolen, written off or your condition alters to make the vehicle unsuitable within the 3 year period this restriction can be lifted. The restriction does not apply to the hire of an adapted vehicle for trips.
Is repair work on an adapted vehicle VAT exempt?
Repair work on a vehicle purchased with the VAT exemption can have repair work carried out without paying VAT on that work. You should always bring a copy of your original invoice to any dealer you are engaging for the repair work to confirm the VAT exemption. They should keep a photocopy of this for their records.
If you think you might be eligible for VAT exemption on a motorhome and would like to know more, contact us today on 01772 685949.