Our accessories shop is packed with all you might need to make sure you are BBQ ready whether you're at home or touring. Are you BBQ ready? Our accessories team have compiled their "must-have" items for the ultimate BBQ experience.
A Good Quality BBQ
We may as well start with the basics. A good BBQ can be the difference between properly cooked, tasty food and a BBQ flop. Our CADAC range is designed to be lightweight and very effective. The multi level design even includes a gap to pour water into the bottom as you cook. So, when you are done cooking, all the fat that has dripped down can easily be poured away and you can wipe down the whole BBQ with ease. Cindy in the shop was particularly pleased with this feature.
"I hate cleaning a grill or BBQ, and I've yet to meet anyone that enjoys it, so this is perfect!"
BBQs start at just £97.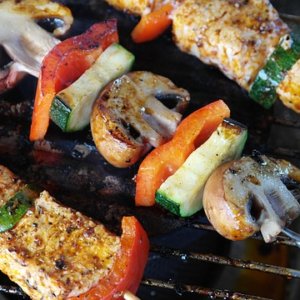 Skewers
Meat and veg skewers are a BBQ favourite. Metal skewers speed up the cooking process and make sure the centre of the meat is cooked through. Our CADAC set of 6 metal skewers is just £9.25, and you can wash and reuse them time and again.
CADAC Pizza Stone
If you consider yourself a pizza connoisseur, this baking stone (£22.95) is ideal for getting a perfect and evenly cooked base. The pizza stone can withstand temperatures of 500 degrees, so you never have to worry that the BBQ is the right temperature. It will cook through an average pizza or flatbread in just 10 minutes.
Don't worry, it also works just as well in an electrical oven, so it doesn't gather dust in winter and rainy seasons. Now you just have to decide what toppings to put on…
Fold Out Table
A sturdy and adequately sized fold out table may seem a simple addition to the list. However, anyone who has BBQ'd while trying to monitor a tray of precariously balanced raw meat will tell you it is an essential. The fly cover is self explanatory. Nothing like seeing a fly on your food to put you off your tea, even if it is grilled to perfection. We have a whole host of tables in stock, from just £19.95.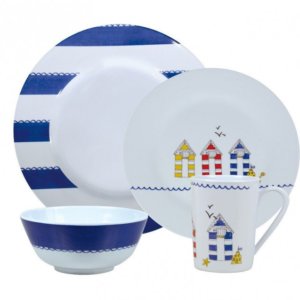 Sturdy Table Wear
Paper plates are handy and cheap, but can drive you insane if you are trying to cut a steak on one. Melamine is the most popular choice for caravanners and motorhome users' kitchens. It is strong and shatter resistant, so it won't smash at the first speed bump you cross. There are a range of melamine products with designs to suit every taste, from £24.50 for a 16 piece set.
Wine Cooler
Whether you are cooking with it or just enjoying it by the glass, a wine cooler is ideal for keeping your white and rose crisp. Our Stainless Steel Wine Cooler (£14.99) is ideal for leisurely BBQs.
Mini Pans
Brian Park from Accessories and Awnings found the CADAC Tapas Pans (£19.50) particularly useful at the recent Caravan and Motorhome Club rally in Sandringham.
"They're designed to cook tapas dishes, but I like to do a full English on the BBQ with these," he says, "just pop your beans in one, eggs in another, tomatoes and mushrooms in the other two. Then you can cook off your bacon and sausage on the base grill."
Meat Thermometer
To ensure your meat is cooked through without letting it burn or cutting it up, a meat thermometer is just the ticket. We've got Magnetic Meat Thermometers in stock for just £10. It sticks to your BBQ so you never forget it.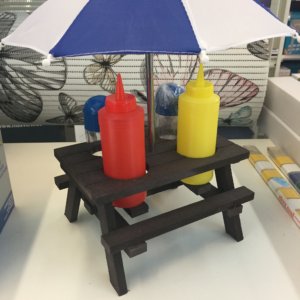 Sauces & Seasoning
Everyone has their favourite sauce to dunk and drizzle. Make your al fresco table complete with this cute table set.
Are you BBQ ready? We have all this AND MORE in our accessories superstore. Pop in and have a look around, our staff will be happy to recommend anything you might need.