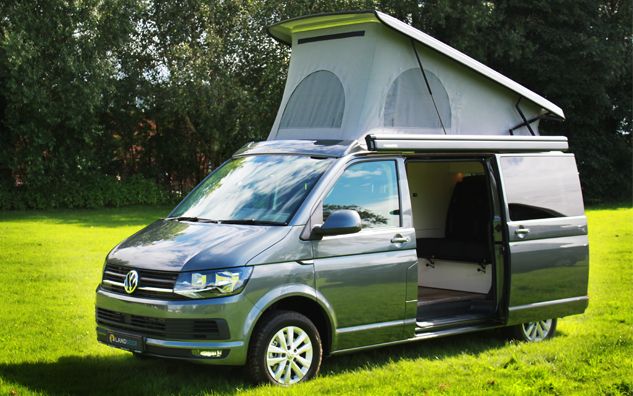 We are delighted to have a range of Landseer luxury campervan range on our forecourt and in our showroom for you to explore. These pop top campervans are luxurious in design, and they offer a high end experience to your holidays.
What Makes the Landseer a Luxury Campervan?
Clever Layout
The Ford Landseer boasts the most usable space in its class. It has maximum space in the kitchen and storage areas, while also maintaining the three rear seats. At night, you simply fold your seats to make a double bed, and you can use the pop top roof as a further double bedroom. As such, you can create plenty of room to relax in both the day and night.
High End Interior
Every detail, inside and out has been designed and engineered to the highest specification. You can enjoy real Oak worktops, flush fitting LED lights and a premium finish throughout the motorhome. You will love the sleek design of this range.
Eco Conscious 
The advanced, high-performance Ford EcoBlue diesel engines are clean, refined and are built to the latest Euro6 standards. Industry leading solar charging is included as standard. Similarly, while not specific to this range, "slow travel" and avoiding airlines is a much more environmentally friendly way to holiday.
Also, Landseer are a local manufacturer just down the road from us in Houghton. We love working with UK brands and as such it's fantastic to be selling products that have minimal transport to us, and boosting the local economy.
Why Choose a Campervan?
Campervans have gone up massively in popularity over the past few years, and it's easy to see why. The campervan is ideal for couples, families or solo explorers to enjoy a touring holiday without the bulk of a motorhome. Campervans are small enough to use as your normal vehicle, and they can be parked on most driveways.
As well as being cost efficient if you use it for regular driving as well as touring, you will save money on insurance and fuel with a campervan. Similarly, due to the smaller size you can get more luxury features in a lower price bracket.
Campervans are a handy option that you can jump in any time and head off on your holidays. As such, they are popular with "weekend tourers". If you like a spontaneous getaway, a campervan could be for you.
The pop top roof in the Landseer campervan will give you tons of headroom when you are parked up, while being simple to drive when the roof is down. Additionally, a 2.6m awning is included. You can use this to create plenty of extra space.
The size of campervans also make them much more agile for exploring. Those that prefer wild camping often like campervans as they are less cumbersome to park up in the countryside.
Not sure if campervans are for you? Why not try before you buy with a campervan from our rental fleet.