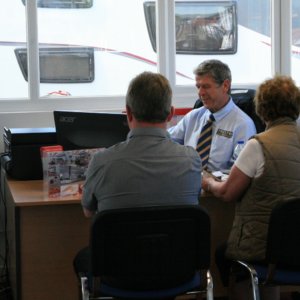 Selling your caravan or motorhome? We'll take all the hassle out of selling, with our  buying service.
If you are considering selling your caravan or motorhome, give us a call. We'll give you a quick, free evaluation (subject to visual assessment) and offer you a fair price. It couldn't be simpler!
There are no seller fees or hidden charges, so you can be confident you are getting a good deal. We have cash available for immediate payment.
Plus, after the sale, we'll take responsibility for warranty issues, so all you need to do is figure out how to spend the money from the sale.
My caravan/motorhome has a few faults, will you still buy it?
We will certainly consider any vehicle that is for sale, and will still offer a fair price bearing in mind any repair costs we'll need to make the model suitable for resale. Make sure you list the faults when requesting a quote (with pictures if possible) so we can be accurate in our offer to you.
We frequently deal in used stock and leisure vehicles suitable for trade. So we are always on the look out for models to add to our 7 acres of choice.
Call us on 01772 685949 or email sales@prestoncm.co.uk for further details.
[contact-form-7 id="1723″ title="Brokerage and Buying"]