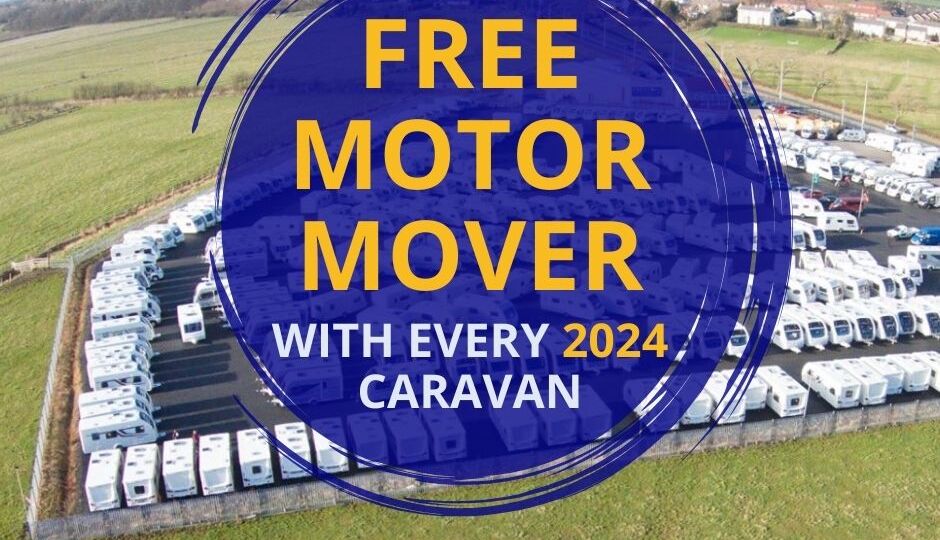 We're thrilled to launch our 2024 caravans with a bang, celebrating our new models on display with a huge special offer.
Until 16th October, all 2024 caravans sold will come with a FREE MOTORMOVER!
Great savings and a huge convenience when you are parking in the driveway or pitching up. This offer runs across all our 2024 models including Elddis, Swift, Sprite, Weinsberg and Buccaneer. 
Take a look around our 2024 models on display, including Basecamp 4, Supreme 550, Buccaneer Bermuda, Sprite Alpine 4 AND MUCH MORE!
Special Edition Elddis Supreme
View our 2024 Elddis Supreme 550 video tour here
We're excited to showcase our 2024 Elddis Supreme range of caravans. Based on the best selling Avante range, the Supreme offers bespoke exterior graphics and upgraded upholstery. This year, the colour scheme is a luxurious deep blue with gold accents throughout. In addition, these caravans offer an extensive features package at the fraction of the cost if you were to add each extra separately. Furthermore, these are an exclusive range, only available here at Preston Caravans and Motorhomes.
To enquire about any of the caravans we have on display, or get more information on our motor mover deal, just get in touch! Email us at sales@prestoncm.co.uk or call at 01772 685949.
Don't delay! Offer ends 16th October 2023.