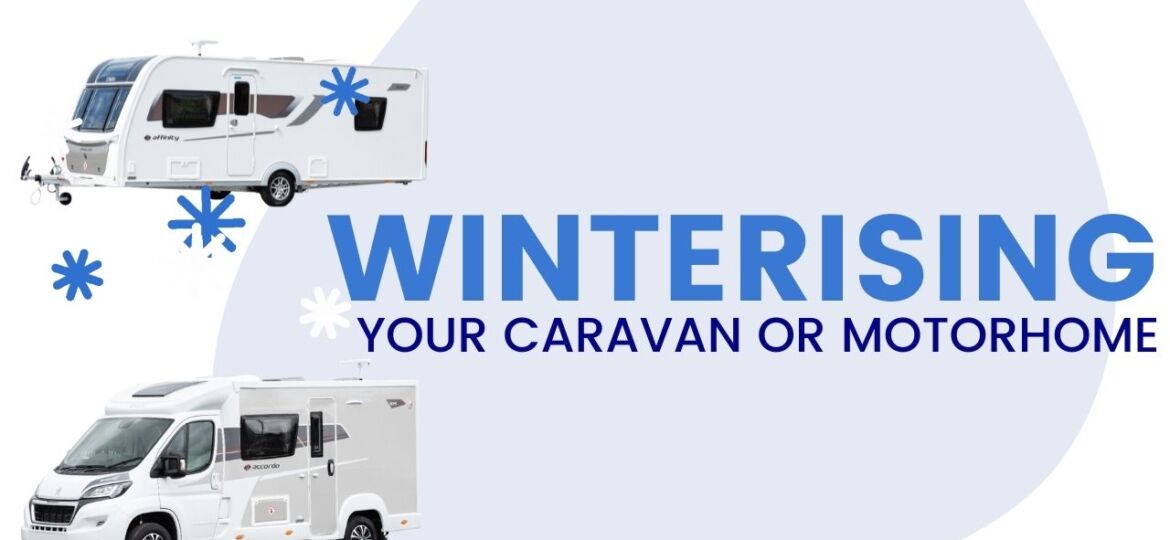 Have you winterised your caravan or motorhome yet? Follow our handy guide to get ready for the winter months!
If you aren't using them over the winter months, it is essential that you winterise your caravan or motorhome.
Winterising is the number one essential storage tip for a caravan or motorhome, and without doing it you are likely to find hassle and expense coming your way when you take it out to tour again.
Why is winterising important?
Winterising prepares your caravan for being unused for a long period of time in cold or freezing temperatures. It protects your caravan from cracked pipes, damp, infestation and other unpleasantness that you don't want your caravan or motorhome to suffer.
Every year we receive calls in our Repair Centre for damage done by cold, frost and rodents that could easily have been prevented by winterising. Don't let it happen to you!
Is winterising difficult?
Fortunately, winterising is relatively simple when you know how. It takes a bit of time, but can easily done in one trip. It's definitely worth a little effort to thoroughly winterise, so you can go home happy in the knowledge your vehicle will be in good condition when you come back to it.
When should I winterise my caravan or motorhome?
You can winterise your caravan as soon as you have taken it on its last trip of the year, or whenever you know there is going to be a significant break until your next outing. Winterising should be done before the weather gets to freezing temperatures, to avoid any cracked pipes or issues with your caravan or motorhome's plumbing. However, it is not advisable to wait that long if you can help it and are not using your vehicle. As soon as the temperature drops, pests and bugs like to take shelter from the cold – so don't give them a free pass to your cosy 4 berth!
STEP 1:
DRAIN THE WATER SYSTEM
Open All Taps
Mixer taps should be left up in the central position, even after draining is complete.
Drain On Board Pumps
On board pumps must be FULLY drained. Read owners handbook for your caravan or motorhome specific instructions.
Take Out Extras
Shower heads, submersible pumps and filter caps should all be taken home for the winter.
Water Carriers
These should be fully drained too, and stored safely with the caps off to stop pressure and stale smells.
Please note we do sell a Floe Caravan Drainage System in the shop if you need a hand thoroughly draining your caravan or motorhome.
STEP 2:
CLEAN THE CASSETTE
DRAIN COMPLETELY
If you missed out any water in the cassette or flush tank, make sure this is fully drained.
USE CLEANING FLUID
Use a specialist cleaning fluid to remove everything from the cassette, including calcium deposits.
PROTECT FROM CORROSION
Cover the seat and blade with Thetford Maintenance Spray.
In motorhomes, your engine battery needs topping up too, as a car engine would if it were out of use for a long period.
STEP 4: USE MOISTURE TRAPS
PLACE TRAPS IN EACH ROOM
To avoid any damp and musty smells – placing a little one in your microwave will keep it in top condition
STEP 5:
ENCOURAGE AIRFLOW
PROP UP MATTRESSES
This will also encourage air to flow as much as possible
KEEP DOORS AJAR
Keeping all doors (including cupboards) ajar will help keep each area fresh
STEP 6:
DON'T FORGET YOUR TYRES
WINTER WHEELS
Consider replacing your wheels with winter wheels and store your regular ones somewhere safe
PRESSURE LEVEL
Check your tyres are filled up to the correct pressure level throughout the period it is in storage
MOVE EVERY SO OFTEN
Move your caravan or motorhome every so often so a different part of the tyre can take the weight
AXLE STAND
Using an axle stand will take pressure off your tyres
STEP 7:
INTERIOR CLEAN
REMOVE ALL FABRIC
Cushions, mattress covers, curtains – storing any removeable fabric at home will keep it fresher
VACUUM
Give carpets and upholstery a vac to ensure they're super clean before you leave
REMOVE ALL FOOD
Including non-perishables, as cans can leave unsightly ring marks
ANTIBACTERIAL
Give all surfaces, especially fridge, oven and microwave, a clean with anti-bacterial spray
STEP 8:
LIFT THE BLINDS
Keeping blinds pulled to cover the window can stretch springs and leave them ineffective next season.
STEP 9:
CHECK GLYCOL LEVELS
If you have a wet central heating system, we'll check there is the correct level of Glycol (antifreeze)
STEP 10:
EXTERIOR CLEAN & PROTECT
WINTERISING FLUID
Coat the exterior with a winterising fluid, like Fenwicks Overwintering Liquid (£9.99) to prevent the build up of dirt and algae.
CLEAN THE OUTSIDE
Clean the outside of the caravan or motorhome (there are plenty of specialist cleaning solutions to help do the job).
COVER UP
For extra protection against the elements, you might want to consider a cover – but this MUST be breathable material, not tarpaulin or plastic as this will trap in moisture.
STEP 11:
ANTI THEFT DEVICE
Anti-Theft devices are sensible any time of year, but are especially important when the caravan or motorhome is out of use for long periods.
Ask our shop about our wide range of hitch locks and wheel locks
LAST TIP: REGULAR CHECK UPS
If you can, check on your caravan or motorhome intermittently. You'll spot any budding issues early on, and you'll deter thieves.
If you have any questions regarding winterising, our staff will be more than happy to assist you, either at our Preston dealership or over the phone at 01772 685949.