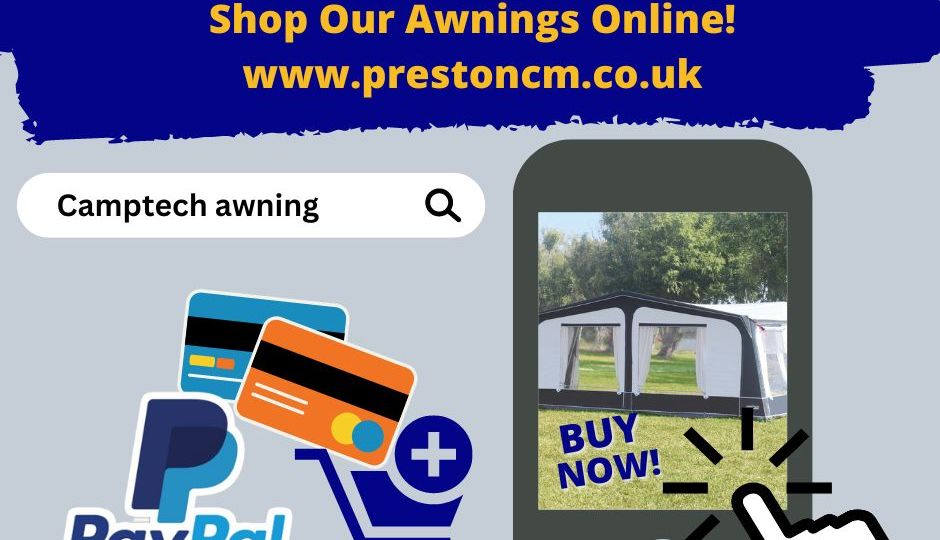 You can now buy awnings online with our new online shop! Explore our quality ranges from Camptech, Isabella, Sunncamp, Telta and Dometic.
We have a huge selection of awnings to choose from, so it's never been easier to buy awnings online and find the perfect model for you. From All Season full awnings to sun canopies, we've got you covered.
Pay by card, paypal or paypal pay in 3 to spread your payments over 3 months.
If you have any questions or queries, our team is still here to assist on awnings@prestoncm.co.uk and 01772 685949
Awnings are a fantastic way to extend your caravan or motorhome space. Whether you're in a porch awning or a full awning, adding extra square footage is ideal to making your holiday even more comfortable.
For some, a sturdy awning is great for adding an extra bedroom when friends or grandchildren come along for holidays. Others, it's a perfect place to all gather round and dine half al fresco. For some it's a great place to store shoes and extra bits that clutter up your caravan to keep everything nice and tidy.
We stock both poled and air awnings for you to buy online. Air awnings are famously a breeze to put up, though some still prefer the classic (and lighter weight) poled awnings. The choice is totally yours!