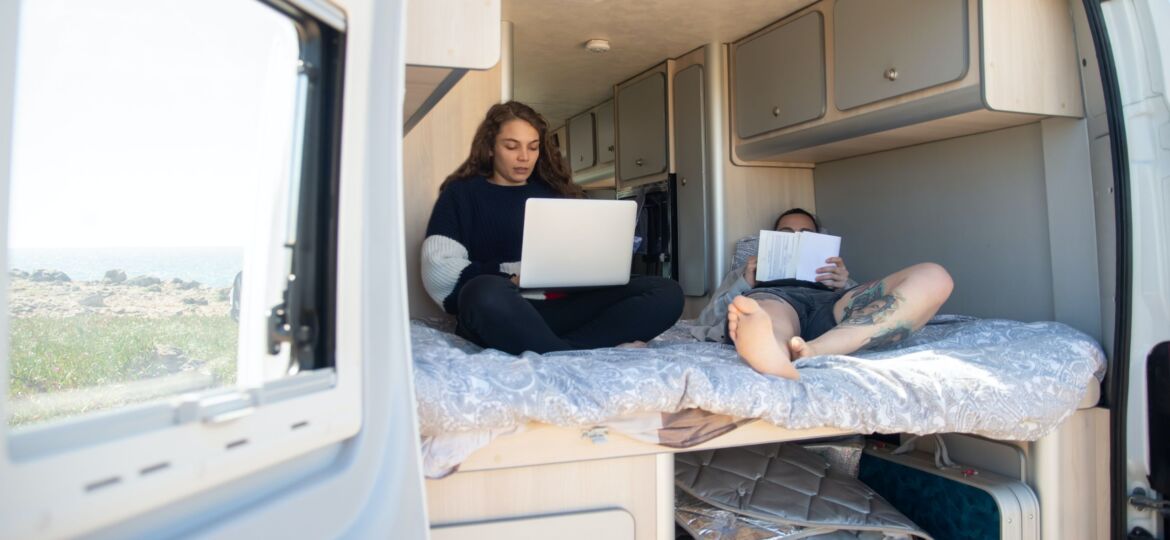 Work from home is arguably the largest long lasting lifestyle change that has come from the Covid pandemic. For many people, regular attendance in the office is a thing of the past, and this leaves open a huge range of opportunities to see new places without eating into precious holiday days.
Caravans, campervans and motorhomes have come an increasingly popular way of sticking to the practicalities of working from home – it's just that the home can now have a different view every other day! With a bit of planning, you can enjoy working and touring. Here are our top tips:
Make Sure Your Internet Connection Is Solid
This is actually where your own touring vehicle can surpass a hotel. Whilst coffee shops are always a strong choice for getting good WIFI, they're not always the best spot for meetings or quiet working. Investing in a Maxview Mobile WIFI device means that for the price of a data only sim each month, you can have all your devices working quickly, wherever you get 4G signal. There are also plenty of sites with good WIFI, although if you need fast downloads etc it may be worth calling ahead to check their strength before you rely on it.
Set Out Your Desk For Long Term Success
Whether the desk is outside, at your dinette table or on your bed, being able to sit comfortably for long periods of time is essential. Make sure you are able to sit upright with adequate support for your back and arms. For outdoors, a chair with lumbar support will be essential (check out our high back outdoor chairs in our accessories shop!).
Establish Your Routine
While the thrill of working whilst touring is in the changes around you, for your work day, routine can work wonders. Setting yourself small breaks, and a firm start and finish time will mean you can enjoy your surroundings and be your usual productive self.
Don't Leave Charging to Chance
Your laptop can be charged while you are hooked up to mains electric, so if you're staying on a site this will take care of itself. However, if you are planning to do work al fresco or do a spot of wilder camping, you may need back up. Total Cool portable generator, for example, ensures a constant supply of juice for your equipment, wherever you are on your adventures.
Consider Extra Space
Especially important if there is more than one of you, creating extra space can make working from your caravan or campervan a doddle. There are so many awnings on the market that can add tons of versatile spare room. Alternatively, your layout can offer your own space, especially those models with midships washroom facilities that allow you to close off the bedroom and living room from each other. Alternatively, there's the aforementioned coffee shops and many towns have informal co-working spaces if you need extra room.
Where would you like to work from in your caravan, motorhome or campervan? Let us know!