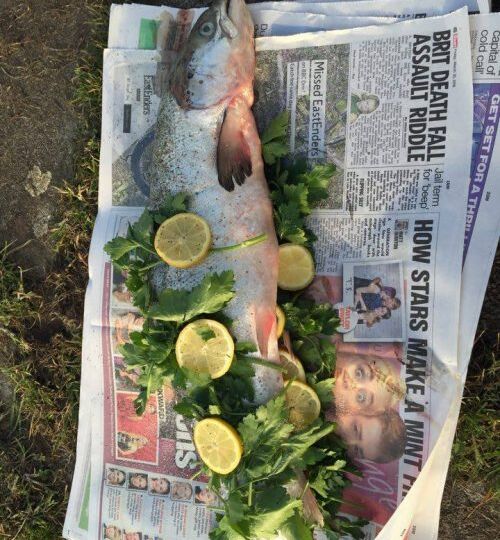 Here at Preston Caravans and Motorhomes, we're very proud to have staff on hand who love caravanning as much as our customers do. Kim Gardham, who runs our Retail Trade and Storage Facility, often takes his family away for a trip in the caravan. Back in the office we're always amazed at the meals his wife Louise whips up for them while they're away, so we asked her if she'd share her secrets with us! Luckily she was happy to oblige, so here are 2 of Louise's favourites that you can try next time you're pitched up:
STEAMED SMOKED WHOLE SALMON, BABY BAKED POTATOES & GARLIC MAYONNAISE
You will need:
A whole Salmon (Trout works well too)
4 Bunches of Fresh Parsley
4 Fresh Lemons Sliced
Salt& Freshly ground Pepper
5 Sheets of Newspaper
String
Open the newspaper, place two bunches of the Parsley and a few slices of lemon across the sheets diagonally and place on
the salmon. Stuff the salmon with the lemon slices and add plenty of salt & pepper.
On top of the fish place the remaining parsley and lemon slices, wrap up the fish in the newspaper and tie it up with the string.

Next wet the parcel though and place onto a hot BBQ, turning occasionally until all the paper has burnt off, this should take around 45 minutes to 1 hr.
Whilst this is cooking, wrap new potatoes individually in foil and place in the hot coals, when soft, tip into a serving bowl add a few grinds of Sea salt and add a knob of butter
Finely chop a few slices of fresh garlic, add a sprinkle of salt, then with the side of the knife press to make a paste, add this to a good dollop of mayonnaise and stir.
Serving Suggestion: Delicious with beetroot, tomato & cucumber salad!
HUNTERS CHICKEN ALFRESCO STYLE
You will need:
Diced chicken breast cut into bite sized chunks
Sliced Chorizo about 1/2 inch thick
I cup of dark brown Sugar
1/2 cup of Ketchup
Grated Cheese
Wooden Skewers
Method:
Feed the chicken & chorizo on to the wooden skewers alternately, place onto the Hot BBQ grills and keep turning until cooked.
In a pan pour in the dark brown sugar & Ketchup and heat up until bubbling.
Place a few skewers on a serving plate drizzle with the BBQ Sauce & a sprinkling of grated cheese, keep stacking repeating the process, then finish of with a final drizzle of BBQ Sauce & a sprinkling of cheese.